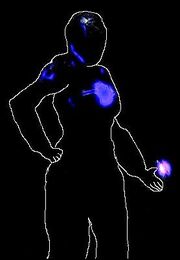 The Sculptor is the 10th god in existence, created by Lohak, and has control over Water.
Information Block
Edit
Name: The Sculptor
Domains: Water, Ice, Poison, Renewal, Steel, Vengeance
Appearance : A female silhouette with The Crystal Lotus embedded in her breast. The Crystal Lotus radiants a pale blue light that barely illuminates her form.
Symbol: Sacred Lotus Blossom
Background
Edit
Creation
Hrinori was the second elemental god to be created by Lohak. When the god of corruption created a powerful artifact on her world of Lor'quhan, Hrinori was inadvertantly affected, becoming quite crazed. In the process of freeing herself from Madness (and incidentally, ascending Nennave), she crafted a new identity for herself, calling herself The Sculptor, and claiming the domain of Renewal.
Description & Personality
More details about your god; what they look like in-depth, how they act, maybe what they plan to do
The Susurrus (demiplane) -- An inverted world linked to the rest of the cosmos by the Whispergates, the only entrances and exits from the plane.
Artifacts
Edit
The Crystal Lotus (Moderate) -- helps the wielder manipulate cold and radiant energies. (Combat)
The Whispergate (Moderate) -- provides a means of travel between worlds.
The Tombs of Remembrance (Greater) - provides nourish/denourish PP.
The Sculptor has ascended an Exarch of Ice. This Exarch was named Hrinori, and approximately matches the goddess' appearance and demeanor before her rebirth as The Sculptor.
Fulrit, Exarch of Vengeance.
Orimoth, a combat exarch.
Races and People-Groups
Edit
Same as Beasts, just with plants instead
Landforms
Edit
Power Level
Edit
1 PP/day